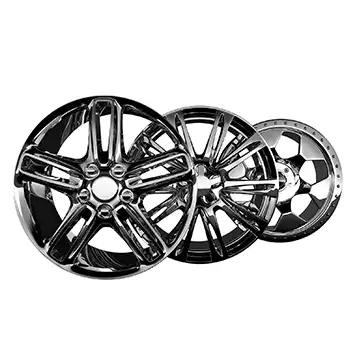 Jacked Up Truck & Jeep Outfitters is your one-stop shop for wheels in Austin, Round Rock, Leander, and other nearby Texas locations. We stock a wide selection of wheels from top brands, so you can find the perfect set to match your vehicle and style.
Before you start shopping for new wheels, be sure to check out our wheel buying guide below. We'll walk you through the process of choosing the right wheels for your vehicle, and we'll also discuss the benefits and drawbacks of different wheel materials. If you have any questions, our team of experts is always happy to help. Simply contact us to help you find the perfect set of wheels for your vehicle!
Jacked Up Truck & Jeep Outfitters: Our Wheel Buying Guide
Alloy wheels are lightweight and improve performance by increasing cornering, steering precision, and decreasing road feedback for better braking response.
Steel wheels are made of a heavier material, which can provide vehicles with a lower center of gravity. This makes them a good choice for drivers who need a more capable vehicle for snow, off-road, or rugged terrain. However, they can lack other performance capabilities due to their added weight.
Chrome wheels are a type of alloy or steel wheel coated with an aesthetically-pleasing chrome finish. Known for their metallic, mirror-like shine, durability, and strength, they are often sought by drivers concerned with cosmetic appearance. However, they require regular attention and cleaning to maintain their visual appeal.
Rims & Wheels: The Manufacturing Process
Cast wheels: Aluminum wheels are manufactured through a process known as casting, where molten aluminum is poured into a mold. The shape of the wheel is determined by the design of the mold. This process can be done using gravity casting or pressure casting.

Gravity casting is the simplest and most common method. Molten aluminum is poured into a mold and allowed to cool and solidify. This method tends to be less expensive than pressure casting, but it can produce wheels with less precise tolerances.
Pressure casting is a more precise method that produces wheels with tighter tolerances and a smoother finish. Molten aluminum is forced into a mold under high pressure. This method is more expensive than gravity casting, but it is often preferred for high-performance applications.

Machined wheels: The machining process shapes an aluminum wheel by combining casting, heating, spinning, and precise pressurization.
Forged wheels are created by heating a solid aluminum block until it is very soft. The aluminum is then forged, or hammered and pressed, into the final shape of the wheel under high pressure. This process creates a wheel that is stronger, lighter, and more durable than a cast or machined wheel.
The right set of wheels depends on your vehicle's characteristics and desired ride quality. When choosing wheels for your car, truck, or SUV, please consider the following:
Wheel size: Different wheel sizes and weights have different performance characteristics. When upgrading your wheel size, it is important to consider the maximum wheel size allowance for your vehicle.
Wheel weight: The weight of your wheels can have a significant impact on your vehicle's performance. Heavier wheels will increase your braking distance and reduce your handling, while lighter wheels will improve both maneuverability and braking performance.
Terrain: Consider where you drive most often. The terrain you drive on most often should be a major factor in your wheel selection. Wheels designed for different terrains have different features that make them better suited for specific conditions.
We understand that every customer has different needs and preferences when it comes to buying wheels. That's why we offer a wide variety of styles, configurations, and performance options to choose from. Our team of wheel and rim experts is here to help you find the perfect set of wheels for your vehicle and your budget.
Contact us today to learn more about our products and services. We're confident that we can help you find the perfect wheels for your needs.