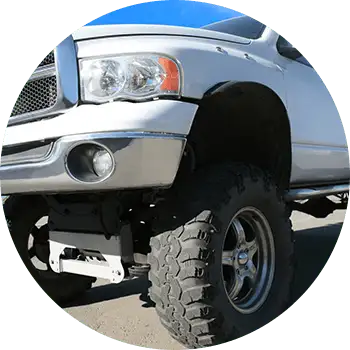 Increase Your Ground Clearance for Bigger Tires & Wheels
Take your truck to the next level with a lift kit from Jacked Up Truck & Jeep Outfitters. Our installations will give your truck the performance you need for rock climbing, mudding, and other off-road adventures.
We are your source for suspension lift kits and body lift kits. We'll help you create the extra ground clearance you need for the biggest, baddest tires and wheels.
Schedule a Lift Kit Installation
Discover Your Perfect Lift Kit
Whether you're a beginner to installing a lift kit or an experienced pro, our technicians are ready to assist. We'll review your options and recommend the best lift kit for your needs. We carry a wide selection of lift kits from leading brands.
Our technicians have years of combined experience in suspension service, including lift kit installs for Austin, Round Rock, Leander, and other neighboring communities in Texas.
Our Suspension Lift Kits
Suspension lift kits combine shocks, springs, coils, and other components to improve ground clearance and performance.
Installation services may require steering geometry alterations and additional calibrations.
They are perfect for off-road drivers who need more clearance for obstacles, bigger tires for better traction, and improved performance capabilities. Suspension kits can also give your truck, Jeep®, or SUV a more aggressive appearance.
Our Body Lift Kits
Body lift kits raise the body of your truck, Jeep®, or SUV off the frame, providing a cost-effective way to alter your vehicle's appearance without changing the steering and suspension geometry.
This makes them perfect for adding curb appeal and installing larger tires or wheels without suspension modification.
While body lift kits do not enhance off-roading capabilities, they do increase room for engine, transmission, and other aftermarket performance upgrades.
Bring Your Truck to the Perfect Height
If you're not sure which lift kit is right for your vehicle, our team of professionals can help. We'll gladly go over all of your options with you and find the perfect lift kit for your needs, one that won't compromise handling or safety.
Whether you want larger tires or more ground clearance, we have the lift kit you're looking for at Jacked Up Truck & Jeep Outfitters. Call us at (512) 230-5759 to learn more or schedule an appointment.